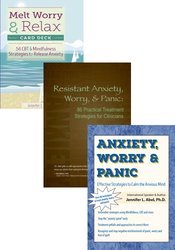 Product Details
Format:

Package - Video & Book

Author:

JENNIFER L. ABEL, PH.D.

Publisher:

PESI Inc.

Copyright:

10/12/2018

CE Available:

Yes, See CE credit tab for complete continuing education details

Product Code:

RVKIT052330
Objectives
[+]
[-]
044700 - Anxiety, Worry & Panic: Effective Strategies to Calm the Anxious Mind
Articulate components of the "anxiety spiral" and utilize several evidence-based strategies (including self-controlled desensitization) to prevent exacerbation of symptoms.
Specify five potential anxiety treatment pitfalls and learn evidence based approaches to avoid or correct them.
Implement four mindfulness strategies for treating anxiety symptoms in a clinical setting.
Evaluate the inverse relationship between worry and problem solving, and identify its implications for treatment of anxiety.
Examine the clinical presentation of panic, worry and fear of guilt and how they compare to Obsessive Compulsive Disorder; learn clinical strategies to stop these cycles of negative reinforcement.
Develop clinical skills to address treatment-resistant issues, including perfectionism, subjugation, procrastination, hypochondriasis, and catastrophizing/intolerance of uncertainty.
Outline
[+]
[-]
044700 - Anxiety, Worry & Panic: Effective Strategies to Calm the Anxious Mind
Anxiety Spirals, Panic and Early Cue Detection
Examples of Worry Spirals and Panic Spirals
The Empirical Evidence
3 Benefits of Catching Anxiety Early
Reminders for Catching Anxiety Early
Mindfulness
Move Toward Relaxation vs. Away From Anxiety
Process vs. Command
Present Focus – Mindfulness as a Relaxation Tool
Acceptance
Observation of Thoughts and Emotion
Labeling of Thoughts and Emotions
Observation and Labeling Game
Self-Controlled Desensitization (SCD)
Rationale for SCD
Formal SCD
In-Session SCD
Active Relaxation
Cognitive Therapy
Find Alternative Thoughts
The Role of "Shoulds" and "Need To's"
Changing to "Want To's"
The Humor of Worry
Dealing with Superstitious Worry
Limitations of research and CBT Interventions
Problem Solving
Worry Prevents Problem Solving – Evidence
4 Ways to do Problem Solving
OCD-like Symptoms in Panic and Worry
Dangers of a Poor Assessment
Stop encouraging Avoidance and Escape
Assess for Negative Reinforcement
Removing Crutches
Traditional Exposure
Interoceptive Exposure for Panic
Finding and Flooding "The Real Worry"
Risks Associated with Treatment of Panic
Related Research Limitations
Reduce Tension and Increase Energy
Progressive-Muscle Relaxation
Quick Alternatives to PMR
Energy Conservation
Problems That Are Often Treatment Resistant and How to Approach them
Hypochondriasis and Fear of Untimely Death
Perfectionism
Subjugation
Catastrophizing/Intolerance of Uncertainty
Procrastination
Author
JENNIFER L. ABEL, PH.D.
Jennifer L. Abel, Ph.D., international speaker, author and clinical psychologist, has specialized in the treatment of anxiety disorders for over 20 years. Before opening a private practice, she served as the associate director of the Stress and Anxiety Disorders Institute at Penn State under the direction of the leading expert in Generalized Anxiety Disorder (GAD), T.D. Borkovec.

Her first book, Active Relaxation (Self-Published, 2010) has received outstanding reviews from mental health care professionals and anxious readers alike. Her second book, Resistant Anxiety, Worry, and Panic: 86 Practical Treatment Strategies for Clinicians (PESI, 2014), has received praise from top experts in anxiety management. Jennifer is also the author of The Anxiety, Worry & Depression Workbook: 65 Exercises, Worksheets & Tips to Improve Mood and Feel Better (PESI, 2018) and the Melt Worry and Relax Card Deck: 56 CBT & Mindfulness Strategies to Release Anxiety (PESI, 2016).

Dr. Abel has published many articles in professional journals and wrote a pamphlet about GAD for ABCT. She has been quoted by several popular magazines (e.g., Health, Prevention, Glamour) for her expertise in Worry. Dr. Abel presents to the public (e.g., Working Women's Survival Show), as well as professionals (e.g., Australian Psychological Society; Anxiety Disorder Association of America).

Speaker Disclosures:

Financial: Jennifer Abel is in private practice. She receives compensation as a self-published author. Jennifer Abel receives a speaking honorarium from PESI, Inc.

Non-financial: Jennifer Abel has no relevant non-financial relationship to disclose.
Continuing Education Credits Awarded for Completion of Entire Package
[+]
[-]
Combined Continuing Education Credit From All Components
Breakdown of Continuing Education Credits by Components
[+]
[-]
044700 - Anxiety, Worry & Panic: Effective Strategies to Calm the Anxious Mind
[+]
[-]
082215 - Resistant Anxiety, Worry, & Panic
[+]
[-]
084385 - Melt Worry and Relax Card Deck
Audience
Counselors, Social Workers, Psychologists, Case Managers, Addiction Counselors, Therapists, Marriage & Family Therapists, Nurses, Other Mental Health Professionals
Reviews
[+]
[-]
082215 - Resistant Anxiety, Worry, & Panic
"Dr. Abel shows us how to identify the same, repetitive spiral of interactions that drives the distressing symptoms of our anxious clients. She provides a useful decision tree of interventions for both GAD and panic to keep treatment focused. Then, within that simple structure, Dr. Abel gifts us with 86 practical strategies to help us move our clients from coping to thriving."
- Reid Wilson, Ph.D.
Author of Don't Panic: Taking Control of Anxiety Attacks

"This detailed, well-written guide provides practical, step-by-step instructions in a wide range of evidence-based strategies, including cognitive approaches, exposure, relaxation, and acceptance-based treatments. In addition, unlike most other books on treating anxiety, this book includes helpful chapters on treating associated problems, such as perfectionism, procrastination, and health anxiety. Dr. Abel provides an excellent roadmap for the treatment of anxiety, worry, and panic, for both novice therapists and seasoned clinicians."
- Martin M. Antony, Ph.D., ABPP Author of Anti-Anxiety Workbook

"In this concise guide to treating panic and worry, Jennifer Abel gives her innovative ideas for handling familiar techniques to every therapist who treats clients with anxiety. Her concepts of early identification of the anxiety spiral, handling exposure, using interceptive exposure and especially her handling of familiar techniques like breathing, relaxation and in vivo exposure demonstrate her impressive practical experience that is well-founded in research. Highlighting pitfalls and obstacles to utilizing these methods, Abel takes us through the recovery process with optimism that we can help people with even the most resistant form of anxiety."
- Margaret Wehrenberg Psy.D.
Author of The 10 Best-Ever Anxiety Treatment Techniques, The Anxious Brain, and The 10 Best-Ever Depression Management Techniques
Satisfaction Guarantee
Your satisfaction is our goal and our guarantee. Concerns should be addressed to PESI Rehab, P.O. Box 1000, Eau Claire, WI 54702-1000 or call (800) 844-8260.

ADA Needs
We would be happy to accommodate your ADA needs; please call our Customer Service Department for more information at (800) 844-8260.