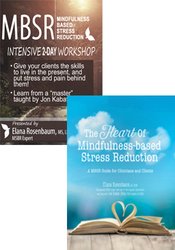 Product Details
Format:

Package - Video & Book

Author:

ELANA ROSENBAUM, MS, LICSW

Publisher:

PESI Inc.

Copyright:

10/25/2018

CE Available:

Yes, See CE credit tab for complete continuing education details

Product Code:

RVKIT052580
Objectives
[+]
[-]
049360 - MBSR: Mindfulness Based Stress Reduction
Present the core beliefs of Mindfulness Based Stress Reduction (MBSR) as they relate to clinical treatment.
Ascertain the meaning of mindfulness and provide psychoeducation to clients regarding its use for reducing stress and improving mental health.
Implement various mindfulness practices utilized to decrease stress and improve symptomology.
Teach clients how to integrate specific informal mindfulness interventions into their daily lives to alleviate symptoms and improve level of functioning.
Utilize breathing exercises as an intervention to refocus attention and interrupt negative thoughts and ruminations.
Practice the process of inquiry and evaluate its ability to enhance client insight and reduce stress.
Articulate the effectiveness of MBSR techniques in treating pain, stress, anxiety and panic in clients.
Evaluate the use of interpersonal mindfulness in facilitating effective communication and increasing awareness in the client.
Appraise the applicability of neuroscience research to stress reduction and ascertain its clinical implications.
Determine specific adaptations of MBSR practices that can be utilized to treat symptoms of anxiety, depression, addiction and trauma.
Establish MBSR practices that are developmentally appropriate and effective for children and adolescents.
Articulate the methods by which MBSR can be interfaced with psychotherapy practices to improve clinical outcomes.
Outline
[+]
[-]
049360 - MBSR: Mindfulness Based Stress Reduction
Foundational Principles
The Origin of MBSR
Goals and Principles
Populations Served
Assessment and Orientation
MBSR Ground Rules
Teacher competencies
The Curriculum—Themes
Class 1-3 Grounding Mindfulness in the Body
Class 4-5 Stress Reaction versus Response
Class 6-7 Communication and Interpersonal Mindfulness
Class 8 Summation and Bringing Mindfulness Home
All Day Session
Establishing Mindfulness Practices
Defining Mindfulness
Introducing Mindfulness Experientially and Verbally
7 Essential Attitudes in Establishing Mindfulness
Establishing Intention and Commitment to Practice
Language —Using Gerunds and the Vernacular
Leading an Awareness Exercise: The Raisin
Guidance in Formal Mindfulness Practices
The Body Scan
The Sitting Meditation with Awareness of Breath
Yoga
Walking Meditation
Loving-Kindness Meditation
Practice in Leading a Mindfulness
Meditation
Applying Mindfulness to Daily Life Creating Home Practices
Use of Homework
The S.T.O.P.
The Three Minute Breathing Space
Awareness Exercises
Clinical Issues: Working with Difficulties
The Process of Inquiry including Role
Playing and Practice in Inquiry
Working with Feeling
Working with Pain and Stress
Working with Anxiety and Panic
Application of Neuro-Science Research
Adaptations of MBSR for:
Depression
Addictions
Trauma
Children and Adolescents
Inter-personal Mindfulness and Communication
Akido for MBSR
Use of Dyads
Group Process
Interface with Psychotherapy
Limitations of Research and Potential Risks
Various definitions of mindfulness
Research validity and reliability
Client may experience initial increase in symptoms
Special considerations for severe mental illness
Author
ELANA ROSENBAUM, MS, LICSW
Elana Rosenbaum, MS, LICSW, has been integrating mindfulness with psychotherapy for over 30 years. She is a leader in the clinical application of mindfulness meditation to cancer care and is a pioneering teacher of Mindfulness-Based Stress Reduction at the Center for Mindfulness, the University of Massachusetts Medical School. She has authored, Here for Now: Living Well with Cancer through Mindfulness and Being Well (even when you're sick): Mindfulness Practices for People Living with Cancer and Other Serious Illness.

Elana has a private practice in psychotherapy in Worcester, Massachusetts and is a sought-after mindfulness coach, teacher, speaker, Course leader and research consultant. She has been featured in "Chronicle" on CBS and mentioned in many magazine articles including Yoga Journal, Health, Coping, and the PBS audio series, "Walking through the Storm". She is currently working on her third book, a workbook of mindfulness exercises for optimal living.

Speaker Disclosures:

Financial: Elana Rosenbaum maintains a private practice. She receives royalties as an author for Shambhala and Satya House Publications. Ms. Rosenbaum receives a speaking honorarium from PESI, Inc.

Non-financial: Elana Rosenbaum has no relevant non-financial relationship to disclose.
Continuing Education Credits Awarded for Completion of Entire Package
[+]
[-]
Combined Continuing Education Credit From All Components
Breakdown of Continuing Education Credits by Components
[+]
[-]
049360 - MBSR: Mindfulness Based Stress Reduction
[+]
[-]
084875 - The Heart of Mindfulness-Based Stress Reduction
Audience
Counselors, Social Workers, Psychologists, Marriage and Family Therapists, Addiction Counselors, Occupational Therapists & Occupational Therapy Assistants, Nurses, Case Managers, Other Mental Health Professionals
Reviews
[+]
[-]
084875 - The Heart of Mindfulness-Based Stress Reduction
"Lovely emerges as an apt description of this MBSR guidebook written by my dear friend and colleague, Elana Rosenbaum. At heart, Elana is a student - infectiously curious, enduringly fscinated and constantly learning. Together, these qualities make her an exceptional teacher. She is soft, warm and openhearted ... and she is fiercely and uncompromisingly alive! Thriving for more than twenty-two years since being diagnosed with cancer and facing multiple reoccurences, Elana is an embodiment of life itself. Dear reader, be prepared: Entering into this book, you'll catch the fragrance of this fierce, warmhearted aliveness, discovering it as none other than you. L'chaim!"
Saki F Santorelli, EdD, MAProfessor of Medicine, Director, MBSR Clinic, Executive Director, Center for Mindfulness in Medicine, Health Care, and Society, University of Massachusetts Medical School

"This definitive workbook does more than just offer readers an opportunity for their own personal experience of MBSR. From her unique vantage point spanning all the way back to the early days of MBSR, Elana provides a precious window into the wisdom and warmth that continues to bring MBSR to life today. Elana's intuitive presence, playfulness, and heartfulness inspired a generation of MBSR teachers, teaching us all the healing power that arises from bringing kind awareness to our present moment experience. By distilling the core concepts of MBSR within this workbook, Elana not only gives us access to the heart of MBSR; she also shows us a path to open our own."
Zev Schuman-Olivier, MD, Executive Director, Center for Mindfulness and Compassion Department of Psychiatry, Cambridge Health Alliance & Harvard Medical School

"Elana Rosenbaum, a master MBSR teacher, has written a gem handbook that provides a practical map and walks us through the nuanced details of the MBSR program. Elana's unique blend of stellar teaching, clinical skills and transformative personal experience with serious illness leads to this clear and comprehensive resource. Written with great wisdom and a light-hearted and compassionate heart, Elana has given us a treasure filled practical tools that will benefit those new to MBSR or experienced teachers alike."
Susan Bauer-Wu, PhD, RN, President, Mind & Life Institute, Author of Leaves Falling Gently: Living with Serious and Life-Limiting Illness Through Mindfulness, Compassion and Connectedness

"Elana has synthesized important learning themes embedded in the MBSR program. A useful workbook for those interested in developing a mindfulness practice and to reflect on what is important in teaching mindfulness."
Susan Woods, MSW, LICSW, Senior MBSR/MBCT Advisor, Teacher, Trainer and Mentor, The Mindfulness-Based Professional Training Institute, UC San Diego

"The Heart of Mindfulness-Based Stress Reduction is a synthesis of Elana Rosenbaum's decades of experience in teaching MBSR, training others to teach and a guidebook giving readers direct access to the essence of this profoundly transformative program. Elana describes in detail the themes of the program session by session and offers practical mindfulness exercises and meditations for the reader to explore. Whether it is teaching MBSR or writing about it, Elana puts her heart and soul into her work. Threaded through each page of this book is respect, authenticity and love."
Diane Reibel, PhD Director, Mindfulness Institute, Myrna Brind Center of Integrative Medicine, Thomas Jefferson University Hospital Co-author, Teaching Mindfulness: A Practical Guide for Clinicians and Educators
Satisfaction Guarantee
Your satisfaction is our goal and our guarantee. Concerns should be addressed to PESI Rehab, P.O. Box 1000, Eau Claire, WI 54702-1000 or call (800) 844-8260.

ADA Needs
We would be happy to accommodate your ADA needs; please call our Customer Service Department for more information at (800) 844-8260.