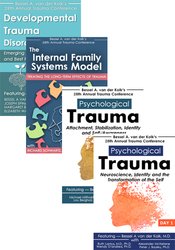 Product Details
Format:

Package - Video

Authors:

BESSEL A VAN DER KOLK, M.D.
JOSEPH SPINAZZOLA, PHD
MARGARET BLAUSTEIN, PHD
ELIZABETH WARNER, PSY.D.
RICHARD C. SCHWARTZ, PHD
RUTH LANIUS, M.D., PH.D.
ALEXANDER MCFARLANE
ED TRONICK, PHD
WENDY D'ANDREA, PHD
MICHAEL MITHOEFER, MD
PETER J. BAYLEY, PH.D.
LOU BERGHOLZ

Publisher:

PESI Inc.

Copyright:

5/31/2017

CE Available:

Yes, See CE credit tab for complete continuing education details

Product Code:

RVKIT053005
Objectives
[+]
[-]
052985 - Developmental Trauma Disorder (DTD)
Describe the structure and protocol of the field trial developed to study the validity of the Developmental Trauma Disorder as a diagnostic construct.
Name at least two manifestations of DTD as revealed in the field trial.
Identify and describe at least one assessment measure used to evaluate presence of proposed DTD criteria.
Identify and define at least two core goals of intervention for children who meet proposed DTD criteria.
List at least one way that each of the described interventions (ARC, SMART, Trauma Drama) addresses youth regulation.
Compare and contrast the described interventions (ARC, SMART, Trauma Drama) for addressing DTD.
List what actions people can take to regulate their own physiological functioning.
[+]
[-]
052990 - The Internal Family System Model
Identify the theory and principles of Internal Family Systems therapy.
Summarize how to access clients' self- a core of compassion and other leadership qualities.
Explain how to deal with client "resistance" more effectively and with less effort.
Utilize the clients' self to repair attachment injuries.
Recognize the IFS model as an internal attachment model.
Identify the parallels between external and internal attachment styles.
Describe the effects of trauma on parts and Self.
Utilize the model in treating trauma.
Gain an awareness of their own parts and how those parts impact therapy.
Apply IFS principles to transference and counter-transference.
[+]
[-]
052995 - Psychological Trauma
Explain how the brain has fundamental capacities to learn to regulate itself.
Explain how infant brains develop over time.
Describe how to integrate neuroimaging into effective treatment.
Recognize how physiological hyproarousal contributes to alterations in identity, awareness and agency.
Identify the impact of trauma over time.
Examine the role and mediating mechanisms of meditation practices in healing emotional suffering.
Discover integration for paradoxes of mind and brain using meditation.
[+]
[-]
053000 - Neuroscience, Identity and the Transformation of the Self
Present three key findings Dr. Tronick discovered that help understand the neurobiological and social-emotional development of infants/children.
Assess the clinical implications of neglect and/or abuse on meaning-making on their developing self in relation to others.
Discuss the implications of MDMA-assisted psychotherapy for clients who do not respond to traditional therapies for PTSD.
Discuss the implications of utilizing sport as an intervention to improve healing in clients.
Outline
[+]
[-]
052985 - Developmental Trauma Disorder (DTD)
Introduction to the History of Developmental Trauma Disorder
The Body and Trauma
Imitation
Pitch and Emotion
Parts of the Brain

Amygdala
Pre-Frontal Cortex
Precuneus
Anterior Cingulate

Physical Reactions
Attachment
PTSD
Childhood Experiences Matter
Child Maltreatment
The NCTSN Psychological Maltreatment Study

Child Maltreatment

Psychological
Physical
Sexual

The Four Traumas
DTD Trial Phase I
DTD Trial Phase II
DTD Criterion
What is ARC?

ARC Framework
Setting the Foundation for Identification
Early Identification Work
Deepening Identification
Sensorimotor Approaches in DTD
Compromised Attachments
Self-Location
SMART
Trauma Drama
Panel Discussion and Questions
[+]
[-]
052990 - The Internal Family System Model
Multiplicity & the Self

Evolution of the IFS approach
Multiplicity of the mind
Stumbling on to the self

Internal Family System (IFS) with Trauma
Protector parts and exiles
IFS technique:

Honoring protectors
Dealing with the overwhelm
Witness and retrieve exiles
Unburden trauma memories, beliefs and emotions

Video example extensive review of technique

Introduce parts language
Steps toward helping client access self

Help client get to know protectors

Get permission to go to exiles
Common protector fears

IFS + MDMA research studies
Integration of MDMA
Therapist-client relationship
Keys to work safely with trauma clients
[+]
[-]
052995 - Psychological Trauma
Self and Identity in Traumatic Stress: From "Fixation on The Trauma", To Resuming the Arc of One's Life

Attachment
PTSD and the Military
Developmental Trauma Disorder

Dealing with Unrelenting Threat: Translating the Lessons from The Neuroimaging Lab into Effective Treatment

Objectives
Psychiatric Comorbidity of Chronic Early Trauma
How Do We Develop Adequate Emotion Regulation Capacities?
The Attachment Relationship: A Prerequisite for An Adequate Window of Emotional Arousal

Optimum Zone of Emotional Arousal
Four Dimensions of Consciousness Affected by Psychological Trauma
Remembering Vs. Reliving
Clinical Implications
Present Vs. Past Centered Therapies
Dissociative Change in Narrative Perspective

Fragmentation of The Self
Voice Hearing and Dissociation
Differentiating Psychotic Disorders from Dissociation

Toward Self-Compassion: Creating 'Secure Attachment Relationships' Between Different Parts of The Self

Disembodiment and The Stress Response
Defense Cascade Model
The Body During Fight, Flight, Freeze, And Shut Down

The Reptilian Brain: The Subconscious Brain
Periaqueductal Gray (PAG)

Dorsolateral PAG Connectivity
Dissociative PTSD: Greater Ventrolateral PAG Connectivity

Clinical Management of Freezing Responses

Deep, Paced Breathing & Heart Rate Variability

Heart Rate Variability (HRV)

The Effects of Conscious & Subconscious Triggers On HRV

Clinical Implications: Restoring Mind/Brain/Body Connections

Mind/Brain/Body Synergy
Consciousness of Emotion
Panksepp's Basic Emotional Systems

How Can We Regulate Emotions?
Neurofeedback
The Neurobiology of Eye Contact
Healing the Traumatized Self: The Rebirth of The Self

Healing the Traumatized Self: The Rebirth of The Self

Trauma, Body and Self: How Physiological Hypoarousal Contributes to Alterations in Identity, Awareness and Agency

Awareness Test
Emotion Regulation
Rhythms

Neurofeedback
Heartrate Variability
Cerebellum
Measuring Voice
The Self

Vagal Tone and The Body

Panel Discussion and Questions
The Impact of Trauma Over Time: The Need for Stage-Dependent Diagnosis and Treatment of Traumatic Stress

Developments Within the Field
The DSM-5
Where We Are Today
The History of PTSD Treatment
Conflict of Interest
Delayed Onset PTSD
Executive Function

Meditation as Trauma Therapy: A Cognitive Neuroscience Perspective

Subtle Yoga
Meditation as A Treatment For PTSD
Pilot Study

Sudharshan Kriya Yoga (SKY) As A Treatment For PTSD
Effects of SKY on Cognition and Sleep

Sleep to Forget and Sleep to Remember (SFSR) Model of Emotional Memory Processing
Current Study

SKY Vs. Cognitive Processing Therapy for Treating PTSD

Experience A Taste Of SKY
[+]
[-]
053000 - Neuroscience, Identity and the Transformation of the Self
Attachment, Meaning Making & Self-Regulation

Still Face with Dads
Psychobiological Meaning
Social Stress
Early Regulatory Systems
Parental and Infant Interactions

How the parent with depression or anxiety effects the infant

Gene by Environment
Scale of Sensitivity

Ecstasy (MDMA) & Psychedelics: Re-Frame Experience and Change Self-Awareness

Latest Research and Evidence for Drug-Induced State Change

MDMA: PTSD and combat trauma, initial study results
Psilocybin - Frank's personal experience in a study

History of MDMA
Why study MDMA-assisted Therapy for PTSD
Clinical Trials of MDMA-assisted Psychotherapy for PTSD
Video clips from MDMA-assisted sessions Discussion

Playing to Heal: Sports as Tools for Stabilization, Identity Development and Connection

Using Sport as Treatment
Stretching the Window of Tolerance
Rhythm within Sport
Reframing Failure
Questions
Author
BESSEL A VAN DER KOLK, M.D.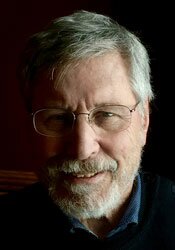 Bessel A. Van der Kolk, M.D.,
is a clinician, researcher and teacher in the area of post-traumatic stress. His work integrates developmental, neurobiological, psychodynamic and interpersonal aspects of the impact of trauma and its treatment.
Dr. van der Kolk and his various collaborators have published extensively on the impact of trauma on development, such as dissociative problems, borderline personality and self-mutilation, cognitive development, memory, and the psychobiology of trauma. He has published over 150 peer reviewed scientific articles on such diverse topics as neuroimaging, self-injury, memory, neurofeedback, Developmental Trauma, yoga, theater and EMDR.
He is founder of the Trauma Center in Brookline, Massachusetts and president of the Trauma Research Foundation, which promotes clinical, scientific and educational projects.
His 2014 #1
New York Times
best seller,
The Body Keeps the Score: Brain, Mind, and Body in the Treatment of Trauma
, transforms our understanding of traumatic stress, revealing how it literally rearranges the brain's wiring – specifically areas dedicated to pleasure, engagement, control, and trust. He shows how these areas can be reactivated through innovative treatments including neurofeedback, somatically based therapies, EMDR, psychodrama, play, yoga, and other therapies.
Dr. van der Kolk is the past president of the International Society for Traumatic Stress Studies, and professor of psychiatry at Boston University Medical School. He regularly teaches at conferences, universities, and hospitals around the world.
Speaker Disclosures:
Financial: Bessel van der Kolk is a professor of psychiatry at the Boston University School of Medicine. He receives a speaking honorarium from PESI, Inc.
Nonfinancial: Bessel van der Kolk has no relevant nonfinancial relationship to disclose.
JOSEPH SPINAZZOLA, PHD
Joseph Spinazzola, Ph.D., holds an appointment at Boston University School of Medicine and is actively involved with provision of direct services to individuals and providers, serving as a clinician, clinical supervisor, and senior trainer. Dr. Spinazzola is Co-Director of the Complex Trauma Treatment Network, a national initiative to transform large regional and statewide systems of care, operated through our Center's Category II National Child Traumatic Stress Network site award. Dr. Spinazzola specializes in the assessment, diagnosis, prevention and treatment of complex trauma in children and adults, and is the author of a number of publications in this area as well as on the topic of youth violence prevention. Dr. Spinazzola holds particular interest in dissociative coping adaptations in survivors of chronic maltreatment and neglect and in the role of transformative action in the recovery process.

Speaker Disclosures:

Financial: Joseph Spinazzola has no relevant financial relationship to disclose.

Nonfinancial: Joseph Spinazzola has no relevant nonfinancial relationship to disclose.
MARGARET BLAUSTEIN, PHD
Margaret E. Blaustein, Ph.D., is a practicing clinical psychologist whose career has focused on the understanding and treatment of complex childhood trauma and its sequelae. Dr. Blaustein is co-developer of the Attachment, Self-Regulation, and Competency (ARC) treatment framework (Kinniburgh & Blaustein, 2005), and co-author of the text, Treating Complex Trauma in Children and Adolescents: Fostering Resilience through Attachment, Self-Regulation, and Competency (Blaustein & Kinniburgh, 2010).

Dr. Blaustein's work has been hailed as "a landmark for understanding and treating traumatized children" by world renowned trauma expert Dr. Bessel van der Kolk, and has been embraced by over 300 agencies and/or child-serving systems in the U.S. and abroad who use the ARC framework.

She has provided extensive training and consultation to providers worldwide. Dr. Blaustein is the director of the Center for Trauma Training in Needham, MA, and is actively involved in local, regional, and national collaborative groups dedicated to the empathic, respectful, and effective provision of services to this population.

Speaker Disclosures:

Financial: Margaret Blaustein is the director of training and education at the Trauma Center in Boston. She is an author and receives royalties from Guilford Publications.

Nonfinancial: Margaret Blaustein has no relevant nonfinancial relationship to disclose.
ELIZABETH WARNER, PSY.D.
Elizabeth Warner, PsyD, developer of the SMART model, founding member of SMARTmoves, and co-author of Transforming Trauma for Children and Adolescents: An Embodied Approach to Somatic Regulation, Trauma Processing, and Attachment-Building.

Speaker Disclosures:

Financial: Elizabeth Warner is the project director for SMART for children and adolescents at the Trauma Center in Boston.

Nonfinancial: Elizabeth Warner has no relevant nonfinancial relationship to disclose.
RICHARD C. SCHWARTZ, PHD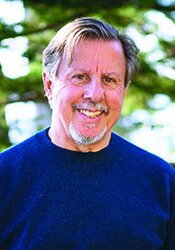 Richard Schwartz, Ph.D.,
earned his Ph.D. in marriage and family therapy from Purdue University, after which he began a long association with the Institute for Juvenile Research at the University of Illinois at Chicago, and more recently at The Family Institute at Northwestern University, attaining the status of associate professor at both institutions. He is co-author, with Michael Nichols, of
Family Therapy: Concepts and Methods,
the most widely used family therapy text in the United States.
Dr. Schwartz developed Internal Family Systems in response to clients' descriptions of experiencing various parts – many extreme – within themselves. He noticed that when these parts felt safe and had their concerns addressed, they were less disruptive and would accede to the wise leadership of what Dr. Schwartz came to call the "Self." In developing IFS, he recognized that, as in systemic family theory, parts take on characteristic roles that help define the inner world of the clients. The coordinating Self, which embodies qualities of confidence, openness, and compassion, acts as a center around which the various parts constellate. Because IFS locates the source of healing within the client, the therapist is freed to focus on guiding the client's access to his or her true Self and supporting the client in harnessing its wisdom. This approach makes IFS a non-pathologizing, hopeful framework within which to practice psychotherapy. It provides an alternative understanding of psychic functioning and healing that allows for innovative techniques in relieving clients symptoms and suffering.
In 2000, Richard Schwartz founded The Center for Self Leadership in Oak Park, Illinois. Dr. Schwartz is a featured speaker for many national psychotherapy organizations and a fellow of the American Association for Marriage and Family Therapy, and he serves on the editorial boards of four professional journals. He has published four books and over 50 articles about IFS. His books include
Internal Family Systems Skills Training Manual
(with Frank Anderson, M.D. and Martha Sweezy, Ph.D.) (PESI, 2017),
Internal Family Systems Therapy
(Guilford Press, 1997),
Introduction to the Internal Family Systems Model
(Tarcher, 2001), and
The Mosaic Mind
(with Regina Goulding) (Trailheads, 2003), as well as
Metaframeworks
(with Doug Breunlin and Betty Karrer) (Jossey-Bass, 1997). Dr. Schwartz lives and practices in Brookline, MA and is on the faculty of the Department of Psychiatry, Harvard School of Medicine.
Speaker Disclosures:
Speaker Disclosures: Speaker Disclosure Financial: Richard Schwartz is the Founder of The Center for Self Leadership. He receives a speaking honorarium from PESI, Inc.
Non-financial: Richard Schwartz is a Fellow and member of the American Association for Marital and Family Therapy.
RUTH LANIUS, M.D., PH.D.
Ruth Lanius, MD, Ph.D., Professor, department of psychiatry, University of Western Ontario; co-editor, The Impact of Early Life Trauma on Health and Disease: The Hidden Epidemic & Healing the Traumatized Self: Consciousness, Neuroscience & Treatment.
ALEXANDER MCFARLANE
Alexander McFarlane, MB BS (Hons) MD, is the Professor of Psychiatry, Head CMVH, University of Adelaide Node, The Centre for Military and Veterans' Health, Australia; and Past President, ISTSS. He's the author of more than 300 peer-reviewed scientific articles on PTSD, and Co-author of Traumatic Stress: The Effects of Overwhelming Experience in Mind, Body and Society. He's also the principal investigator, Australian Department of Defense longitudinal study of combat exposure.

ED TRONICK, PHD
Ed Tronick, Ph.D., University Distinguished Professor University of Massachusetts Boston; Infant-Parent Mental Health Program; Department of Newborn Medicine, Harvard Medical School; author, The Neurobehavioral and Social Emotional Development of Infants and Children; The Power of Discord.

Speaker Disclosures:

Financial: Ed Tronick is a professor at the University of Massachusetts Boston. He developed the Still-face paradigm. He developed the Newborn Behavioral Assessment Scale and the Touchpoints Project with T.B. Brazelton; and the NICU Network Neurobehavioral Assessment Scale with Barry Lester.

Non-financial: Ed Tronick is a member of the Boston Psychoanalytic Society and Institute.
WENDY D'ANDREA, PHD
Wendy D'Andrea, Ph.D., Associate professor of Psychology at The New School for Social Research in New York, NY. Her research focuses on physiological manifestations and consequences of complex trauma.
MICHAEL MITHOEFER, MD
Michael Mithoefer, MD, Clinical Assistant Professor of Psychiatry at the Medical University of South Carolina. In 2009, he has completed the first FDA approved clinical trial of MDMA-assisted psychotherapy in military veterans, firefighters and police officers with PTSD.

Speaker Disclosures:

Financial: Michael Mithoefer receives a salary and grants from MAPS Public Benefit Corp and is a clinical assistant professor at the Medical University of South Carolina.

Non-financial: Michael Mithoefer is a member of the non-profit MAPS.
PETER J. BAYLEY, PH.D.
Peter J. Bayley, PhD, War Related Illness and Injury Study Center (WRIISC), VA Palo Alto Health Care System, clinical assistant professor, Stanford University, Department of Psychiatry and Behavioral Sciences.
LOU BERGHOLZ
Lou Bergholz, founder of Edgework Consulting, has spent the last two decades working on creating trauma-informed interventions that adapt clinical practice and research to population without access to definitive clinical care, author of Vital Connections: Harnessing the Power of Relationship to Impact the Lives of Young People, and co-author of Redesigning Youth Sport: Change the Game

Speaker Disclosures:

Financial: Lou Bergholz receives a consulting fee from Up2Us Sports.

Nonfinancial: Lou Bergholz has no relevant nonfinancial relationship to disclose.
Continuing Education Credits Awarded for Completion of Entire Package
[+]
[-]
Combined Continuing Education Credit From All Components
Breakdown of Continuing Education Credits by Components
[+]
[-]
052985 - Developmental Trauma Disorder (DTD):
[+]
[-]
052990 - The Internal Family System Model
[+]
[-]
052995 - Psychological Trauma
[+]
[-]
053000 - Neuroscience, Identity and the Transformation of the Self
Audience
Physicians, Psychologists, Social Workers, Addiction Counselors, Marriage & Family Therapists, Nurses, Psychiatrists, and other Mental Health Professionals
Satisfaction Guarantee
Your satisfaction is our goal and our guarantee. Concerns should be addressed to PESI Rehab, P.O. Box 1000, Eau Claire, WI 54702-1000 or call (800) 844-8260.

ADA Needs
We would be happy to accommodate your ADA needs; please call our Customer Service Department for more information at (800) 844-8260.