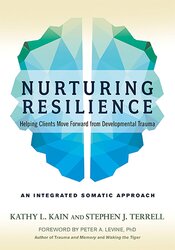 Product Details
Format:

Book - Soft Cover

Length:

264 pages

Authors:

KATHY L KAIN, MA
STEPHEN J TERRELL, PSYD, SEP
PETER A. LEVINE, PH.D.

Publisher:

North Atlantic Books

Copyright:

5/8/2018

CE Available:

No, CE credit is not available

Product Code:

SAM086070

ISBN:

9781623172039
Author
KATHY L KAIN, MA
Kathy Kain, MA, has been practicing and teaching bodywork and trauma recovery for thirty-seven years. A senior trainer in Somatic Experiencing®, she is an expert in integrating touch into the practice of psychotherapy and trauma recovery, as well as in somatic approaches to working with developmental and complex trauma. She teaches therapists about the physiology of traumatic stress through her popular program "Touch Skills Training for Trauma Therapists" and is principal author of Ortho-Bionomy: A Practical Manual. She lives in Portland, Oregon.
STEPHEN J TERRELL, PSYD, SEP
Stephen J. Terrell, PsyD, SEP, is a leading expert in the field of Developmental Trauma and Adoption. The founder of the Austin Attachment and Counseling Center, Terrell works directly with individuals and families affected by trauma and teaches throughout the United States, Japan, and Europe. A Licensed Professional Counselor (Texas) with a background in Somatic Experiencing® and EMDR, he has also been a featured keynote speaker at international adoption conferences and presenter at attachment and play therapy conferences. Terrell lives in Pflugerville, Texas.
PETER A. LEVINE, PH.D.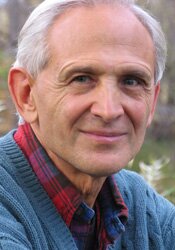 Peter A. Levine, Ph.D.,
holds doctorates in both medical biophysics and psychology. The developer of Somatic Experiencing®, a body-awareness approach to healing trauma, and founder of the Somatic Experiencing Trauma Institute, which conducts trainings in this work throughout the world and in various indigenous cultures, with 26 faculty members and over five thousand students. Dr. Levine was a stress consultant for NASA on the development of the space shuttle project and was a member of the Institute of World Affairs Task Force of Psychologists for Social Responsibility in developing responses to large-scale disasters and ethno-political warfare. Levine's international best seller,
Waking the Tiger: Healing Trauma,
has been translated into 22 languages. His recent interests include the prevention of trauma in children, and he has co-written two books, with Maggie Kline, in this area:
Trauma Through a Child's Eyes
and
Trauma-Proofing Your Kids.
His most recent book:
In an Unspoken Voice: How the Body Releases Trauma and Restores Goodness,
was recently released to rave reviews. Levine's original contribution to the field of Body-Psychotherapy was honored in 2010 when he received the Life Time Achievement award from the United States Association for Body Psychotherapy (USABP).
Continuing Education Credits
CE Credit is not available for this product.
Reviews
"Nurturing Resilience offers a new map for navigating the process of healing from developmental trauma and skillfully incorporates the often-overlooked role of touch in repairing and restoring relational well-being. Written in clear, accessible prose and drawing on research across multiple disciplines, this book is a remarkable achievement by two seasoned and respected somatic practitioner educators."
~ Rae Johnson, PhD, RSMT, chair of the somatic studies specialization in the depth psychology doctoral program at Pacifica Graduate Institute and author of Embodied Social Justice

"Brilliant! Kathy and Stephen have produced a groundbreaking work that provides a deeper understanding of the interface between developmental trauma and mental and physical disorders and most importantly the pathways to their healing."
~ Michael Ocana, MD, medical director of Kelowna Adolescent Psychiatric Unit and clinical assistant professor at the University of British Columbia

"In this well-written and researched book, the authors have condensed and made accessible many of the important philosophies that underlie modern psychotherapy practice. Nurturing Resilience integrates current relational, developmental, and somatic knowledge to help within the growing populations of emotionally, physiologically, and behaviorally dysregulated individuals presenting in all levels of our society."
~ Tony Richardson, somatic psychiatrist

"This book synthesizes the simplicity of our human quest for safety and connection with the complexities of our biological design. As vanguards in somatic therapies, Kathy and Stephen have trained thousands of therapists all over the world and are now graciously imparting their strategies for resilience through this gift of their combined wisdom."
~ Christopher Walling, PsyD, president of the United States Association of Body Psychotherapy

"Nurturing Resilience explains how early childhood trauma not only affects us psychologically but has a profound effect on our physiology. Stephen J. Terrell and Kathy L. Kain are leading experts in the physiology of trauma and how to untangle the mystery of modern disease."
~ Shirley Impellizzeri, PhD, SEP, author of Why Can't I Change?: How to Conquer Your Self-Destructive Patterns and coauthor of Scared Speechless: 9 Ways to Overcome Your Fears and Captivate Your Audience

"Nurturing Resilience is a tour de force contribution to the growing field of neuroscience-informed, somatic approaches. Its argument foregrounds a central problem: a disconnect between medical approaches to complex, physiological symptoms and psychological support, the impact of which has compromised understanding of what constitutes and builds resilience. Nurturing Resilience stands apart in its ability to bridge, in accessible ways, medical and somatic psychological conversations."
~ Kesha Fikes, PhD, RSMT, anthropologist, somatic therapist, and core somatic studies faculty member at the Pacifica Graduate Institute

"At last! A book written by two of the master teachers in somatic touch and trauma! Nurturing Resilience blends theory, stories, and clinical examples beautifully and skillfully into a reader-friendly volume. This will be a valued resource on my bookshelf for years to come and is a 'must-read' for anyone who works with early and developmental trauma."
~ Ellen Keating, PsyD

"This is a go-to book for any practitioner working with clients dealing with trauma. Terrell and Kain beautifully outline the origins of developmental trauma, how our nervous system adapts and supports the complexity of symptoms later in life, and how to respond/intervene in service of greater health. To understand developmental trauma as beautifully explained here is to understand and appreciate our most challenging clients. If you read only one book, this is it."
~ Berns Galloway, MEd, Somatic Experiencing® instructor at the Somatic Experiencing Trauma Institute

"Kathy Kain and Steve Terrell have produced a scholarly, comprehensive and coherent exploration of the complex terrain of developmental trauma. Nurturing Resilience promises to inspire clinicians to cultivate new, somatically based approaches that engage the physiological foundations of healthy attachment and inner regulation."
~ Alaine D. Duncan, MAc, LAc, Dipl.Ac

"This is the book we've been waiting for. Kathy Kain and Steve Terrell, two exceptional clinicians and trauma trainers, share with us their joint expertise in the therapeutic healing of early, developmental trauma. With insight and clarity, they lay out a conceptual framework that elegantly integrates theories of attachment, neuro-development, the autonomic nervous system, and mind-body psychology in order to illuminate the complex underpinnings of early trauma."
~ Jacalyn Brecher, health and wellness advocate

"Terrell and Kain have found an intersection between our earliest physiological development and attachment patterns and developed a method that helps increase regulation in even the most symptomatic clients. Their deep understanding of stress and attachment physiology, combined with the psychological and emotional components, opens a path to healing that is often much easier for clients to undertake than traditional talk therapies. This work has absolutely transformed my practice and given me a whole new lens to see the root cause of deep hurt in my clients."
~ Brandy Vanderheiden MA, MFT

"Kathy Kain is one of the world's leading experts on working through the body to resolve trauma and expand resilience. She brings breadth and depth into her approach, yet teaches in a way that is practical and clear. She is masterful at interweaving the principles and strategies of Somatic Experiencing®, attachment therapy, and polyvagal theory to create a powerful foundation for finding and working with the challenges of early preverbal and nonverbal elements of traumatic experience to promote the permanent reintegration of self. I strongly recommend her work."
~ Maggie Phillips, PhD, coauthor of Freedom from Pain: Reversing Chronic Pain and Healing the Divided Self

"Steve provides an experiential space wherein learning and growth can happen. It is a difference between the 'top down' teacher approach, and the 'we are all on the same plane and open to the possibility of experience' facilitator approach. We each change in relation to the experience and what we are ready to take in at that moment."
~ Samantha Persoff, LMFT, trauma therapist

"The work of Kathy Kain and Stephen Terrell has provided a missing piece in working with developmental trauma, complex PTSD, and attachment trauma. Their understanding of the physiology of trauma and the complexities of attachment bring well-grounded hope to clinician and client alike. With their work, you will learn to use compassion with practical, hands on techniques that support change, growth, and healing. Their work has transformed my understanding and work as a therapist."
~ Terry D. Trotter, MFT
Satisfaction Guarantee
Your satisfaction is our goal and our guarantee. Concerns should be addressed to PESI Rehab, P.O. Box 1000, Eau Claire, WI 54702-1000 or call (800) 844-8260.

ADA Needs
We would be happy to accommodate your ADA needs; please call our Customer Service Department for more information at (800) 844-8260.