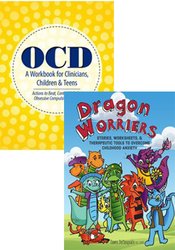 Product Details
Format:

Package

Authors:

CHRISTINA J. TAYLOR, PH.D.
DAWN DEPASQUALE, MA, LMHC

Publisher:

PESI Inc.

Copyright:

4/11/2019

CE Available:

Yes, See CE credit tab for complete continuing education details

Product Code:

KIT085266
Author
CHRISTINA J. TAYLOR, PH.D.
Christina J. Taylor, Ph.D., specializes in Cognitive Behavioral Therapy for Anxiety Disorders, including Obsessive Compulsive Disorder, Panic Disorder, Agoraphobia, Social Phobia, Generalized Anxiety Disorder, and specific phobias. Dr. Taylor lectures widely on anxiety disorders and provides training workshops for mental health professionals. She is an Associate Professor of Psychology at Sacred Heart University in Fairfield, Connecticut.

DAWN DEPASQUALE, MA, LMHC
Dawn DePasquale, MA, LMHC,
is the founder, CEO and clinical director of Bell Mental Health Associates in Swansea, Massachusetts. She holds a Master's degree in Clinical Psychology through the University of Massachusetts at Dartmouth, a program approved by the American Psychological Association (APA). Because of her effectiveness in the area of panic cessation, Ms. DePasquale is the practitioner of choice for local emergency rooms when handling "heart attack" victims who are in fact experiencing severe panic. She has worked in a variety of mental health settings, including state programs, the criminal justice system, mental health hospitals and private practice in order to get a better understanding of the various populations treated as well as the barriers they face in attaining the help that they need. Her philosophy is that everyone is an individual needing specific care tailored to their current needs, wants and hopes, and she is an eclectic therapist who relies heavily on cognitive and dialectical behavioral techniques.
Ms. DePasquale is a featured mental health expert for WSAR 1480 AM radio and a weekly contributor as the divorce, parenting and mental health expert for the website,
www.Examiner.com
. She produces a monthly blog for her company website,
www.bellmentalhealth.com
, titled The Comfy Couch.
Speaker Disclosures:
Financial: Dawn DePasquale is the founder, CEO, and Clinical Director of Bell Mental Health Associates. She receives a speaking honorarium from PESI, Inc.
Nonfinancial: Dawn DePasquale is a contributor for Examiner.com and a mental health expert for WSAR 1480 AM.
Continuing Education Credits Awarded for Completion of Entire Package
[+]
[-]
Combined Continuing Education Credit From All Components
Breakdown of Continuing Education Credits by Components
[+]
[-]
084170 - OCD: A Workbook for Clinicians, Children and Teens
[+]
[-]
085930 - Dragon Worriers
Reviews
[+]
[-]
084170 - OCD: A Workbook for Clinicians, Children and Teens
"Do you want to beat, control and defeat OCD? Dr. Taylor shows how children and teens can do exactly that. Her optimism for their recovery shines through as she demonstrates how they can take on the 'OCD Trickster' and eliminate the OCD symptoms that disrupt their lives. Using the metaphor of a 'fear rocket' for how obsessions and compulsions skyrocket out of control, she teaches how to ride it 'to a safe landing,' by managing the fear that drives OCD. With vivid examples of symptoms such as checking, scary thoughts and contamination, Dr. Taylor describes the ABCD's of eliminating them, providing easy-to-use worksheets for effective exposure and response prevention plans. This is a must-read for anyone who wants to help the young people in their lives recover from OCD!" -- Margaret Wehrenberg, PhD, Author of The 10 Best-Ever Anxiety Treatment Techniques

"I'm so pleased that Christina has written this wonderful book. With her extensive experience treating folks with OCD, Christina is well respected by experts in the field and most importantly by those whom she treats for this difficult illness. This book with its easy to follow concepts, illustrations and charts, will be so helpful to many people. Behavior therapy techniques help many feel more in control of their symptoms and their lives, and Christina has made these techniques accessible in her book. It is sure to become a resource for them to continually refer to over time." --Suzanne Wasylink, RN-BC, Yale OCD Research Clinic

"Dr. Taylor has surely written one of the more comprehensive books for childhood OCD. It is a welcome addition to an area that still lacks adequate materials. It is chock full of helpful and proven approaches and materials, and I'm sure that it will be of great help to the many clinicians, parents, and children out there who do their best each day to cope with this serious and chronic problem." --Fred Penzel, PhD, Licensed Psychologist and Executive Director of Western Suffolk Psychological Services

"Dr. Taylor's well researched and sensitively written workbook on Obsessive Compulsive Disorder has elevated the dialogue and extended the knowledge about this challenging disorder. The integration of the current information on both theory and treatment means that clients and clinicians alike can now improve recovery and management of OCD. The many new strategies and treatment options for clients will dispel the myths about OCD and reduce the worry that families and clinicians experience when trying to be of help to those affected. It's comprehensive and of value to clients, families, and clinicians. It's engaging and optimistic in its presentation, so it is easy to read and understand. I would recommend it to anyone who wants to be a better therapist, support person, or friend to those impacted by this condition." -- Ruth M Grant, PhD, Sacred Heart University

"Christina J Taylor's OCD: A Workbook for Clinicians, Children & Teens will be professionals' newest go-to workbook for treating OCD, and is an ideal resource for children, adolescents and their parents. What' s new about this workbook is the content, description and treatment of the obsessional aspects of OCD. The rhythm of the text and the clever worksheets carry the reader along in learning how to take Actions to Beat, Control & Defeat OCD." -- Diane E Cholomskas, PhD, Psychologist, Center of Anxiety Disorders & Phobias, Volunteer Faculty, Yale Unversity School of Medicine

"Dr. Taylor's OCE workbook is exceptionally well written and thorough, explaining the wide and varied symptoms of OCD and how the disorder affects daily life as a child or teen. This book is a timely resource for parents and caregivers and allows children and teens to actively manage symptoms and improve their quality of life. It provides the framework and support that families need to beat, control and defeat OCD, no matter how daunting the task may be. The worksheets are invaluable and allow clinicians and families to develop a plan that can be implemented gradually and steadily. This ensures that strength is gained, success are attained and that the team works together to defeat OCD. As a parent of a young adult with OCD, I highly recommend this book." --Susan Schuster, PT, DPT, President of OCD Connecticut

"This is a wonderful book to help the afflicted, affected and treatment providers understand the complexityof OCD and its sub-types. Dr. Taylor's approach actively engages the OCD client in their own healing process. Her creative metaphor of the 'Fear Rocket' is a perfect visual imagery tool for the OCD client to utilize to gain control over their symmptoms. For treatment providers it offers a clear protocol of progessive steps to follow including addressing the nuances of the OCD sub-types. Dr. Taylor's inclusion of worksheets concretizes the treatment process which results in the client, treatment provider and significant others/systems having clarity about the goals to be accomplished. This is a must have text for all who suffer from or work with OCD and it will be in my bookshelf" -- Patricia Carl-Stannard, LCSW, Associate Professor of Social Work, Sacred Heart University, Practicing Psychotherapist
Satisfaction Guarantee
Your satisfaction is our goal and our guarantee. Concerns should be addressed to PESI Rehab, P.O. Box 1000, Eau Claire, WI 54702-1000 or call (800) 844-8260.

ADA Needs
We would be happy to accommodate your ADA needs; please call our Customer Service Department for more information at (800) 844-8260.