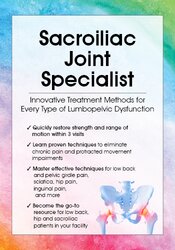 Product Details
Format:

Digital Seminar

Details:

Downloadable/Streaming MP4 Video and MP3 Audio with electronic manual and instructions.

Author:

JERRY HESCH, DPT, MHS, PT

Publisher:

PESI Rehab

Copyright:

7/22/2020

CE Available:

No, CE credit is not available

Product Code:

POS063990
Objectives
Analyze the significant limitation of the malalignment theory of SIJD, and the limitation of the Muscle Energy Model.
Recognize asymmetrical and symmetrical movement dysfunction and effectively intervene.
Compare the traditional model with the Hesch Model.
Understand and integrate evidence-based practice in patient care.
Appreciate the principle of regional dependence in providing integrated treatment of the SIJ, pubic joint, hip joint, and lumbar spine.
Recognize painful and non-painful movement impairments.
Utilize evidence-based practice principles for evaluation and treatment.
Discuss research and theoretical literature related to sacroiliac joint dysfunction.
Identify distal compensations within a whole-body perspective.
Describe joint, neuromuscular, posture, and movement models.
Understand that micromotion testing has greater relevance than gross motion landmark testing.
Perform palpation and spring testing and effectively treat hypomobility and hypermobility.
Effectively teach self-mobilization, making patients independent of manual therapy with 1-3 visits.
Using Clinical Prediction Rules, evaluate and treat common patterns of symmetrical and asymmetrical dysfunction.
Prescribe effective exercises and self-care for patients with SIJD.
Outline
WHAT'S NEW IN SACRIOLIAC JOINT REHAB
The traditional model vs. the Hesch Method
Macromotion and micromotion
What the traditional model misses that the Hesch Method gets right
Reviewing the evidence: support for the Hesch Method
HANDS-ON LAB: MEDICAL SCREENING FOR PATTERNS OF LUMBOPELVIC-HIP MOTION DYSFUNCTION
Practice today's best evaluation for:

Hip joint
Most common pattern of sacroiliac joint dysfunction
Anterior ilium
Posterior ilium
Sacral torsion
Sciatica
Pubic joint
Upslip
Downslip
Inflare
Outflare
Symmetrical patterns
HANDS-ON LAB: EXPAND YOUR TOOLBOX FOR SIJD PREVENTION AND REHABILITATION
Practice effective techniques you can use immediately to:

Restore function
Increase range of motion
Alleviate chronic pain
Regain stability and mobility
Resolve joint hypomobility
Remove reflex inhibition
Improve leg length inequality
HANDS-ON LAB: INCORPORATING MANUAL THERAPY AND EXERCISE FOR BETTER OUTCOMES
Practice combining:

A simpler model of mobility testing and grading
Gentle method of joint mobilization
Home exercise program
Self-mobilization for the patient
IMPROVE YOUR REIMBURSEMENT RATE
Coding and billing updates for SIJD rehab
Justify rehab with the right progress measures and documentation
Avoid denials and adults with these tips
CASE STUDIES: PUT KNOWLEDGE TO PRACTICE
Case study 1: Evaluate and treat downslip ilium that presents as upslip
Case study 2: Reflex connection between the pelvis and the upper cervical
Case study 3: False positive pelvic instability in pregnancy
Case study 4: Joint spring test with pudendal neuropathy with coexisting SIJD
BECOME YOUR REGION'S GO-TO SIJD PREVENTION SPECIALIST
The insider's guide to specialization and professional networking
Build referrals faster: effectively market your SIJ program
Author
JERRY HESCH, DPT, MHS, PT
For over 35 years, Jerry Hesch, DPT, MHS, PT, has specialized in treating individuals suffering from acute and chronic pain from hypomobility and hypermobility/instability from sacroiliac joint dysfunction and dysfunction in joints throughout the body. He started The Hesch institute for Sacroiliac Treatment, Research, and Eduction in Aurora, CO to treat patients and educate other therapists in his evidence-based whole-body approach called the Hesch Method. Dr. Hesch's practical approach is one of the safest, most effective methods you will find that dramatically improves SIJD with brief treatment.

Dr. Hesch has presented over 100 workshops in the USA, Canada, and Europe, including state, national, and international conferences. He has published three book chapters and a book, Treating Sacroiliac Joint Dysfunction and Lumbopelvic Pathomechanics. Currently, he is working on a third book chapter on spring-recoil articular motion testing. He has posted hundreds of videos on his YouTube channel, Jerry Hesch, as a clinician's resource to restore integrated joint function.
Continuing Education Credits
CE Credit is not available for this product.
Audience
Physical Therapists
Physical Therapy Assistants
Occupational Therapists
Occupational Therapy Assistants
Massage Therapists
Athletic Trainers
Certified Strength and Conditioning Specialists
Exercise Physiologists
Chiropractors
Personal Trainers
Satisfaction Guarantee
Your satisfaction is our goal and our guarantee. Concerns should be addressed to PESI Rehab, P.O. Box 1000, Eau Claire, WI 54702-1000 or call (800) 844-8260.

ADA Needs
We would be happy to accommodate your ADA needs; please call our Customer Service Department for more information at (800) 844-8260.