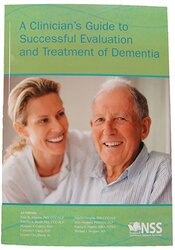 Product Details
Format:

Book - Soft Cover

Length:

252 pages

Authors:

JERRY K HOEPNER, PHD, CCC-SLP
PETER R JOHNSON, PHD, CCC-SLP
JENNIFER A. BRUSH, MA, CCC-SLP
MARGARET P. CALKINS, PH.D.
CAMERON J. CAMP, PH.D.
LYNETTE CARL, PHARMD, BCPS
NATALIE F. DOUGLAS, PH.D., CCC-SLP

Publisher:

Northern Speech Services

Copyright:

10/20/2016

CE Available:

No, CE credit is not available

Product Code:

SAM084975
Author
JERRY K HOEPNER, PHD, CCC-SLP
Jerry Hoepner, PhD, CCC-SLP, is an associate professor in the Communication Sciences and Disorders department at the University of Wisconsin – Eau Claire. He has 15 years of clinical experience and more than 10 years of teaching experience in the areas of acquired cognitive disorders, dysphagia, neurological aspects of communication, aphasia and related disorders, anatomy and physiology, research and speech and hearing science.

Dr. Hoepner's research interests include self-assessment, video self-modeling, and coaching everyday partners of individuals with traumatic brain injuries and aphasia. He also researches teaching pedagogies and self-assessment in university students. Dr. Hoepner's clinical interests include utilizing everyday routines to reduce demands on working memory and optimize executive functions. He is actively involved in community-based brain injury, aphasia groups and aphasia camp. In addition, Dr. Hoepner acts as a clinical supervisor and is active in student-faculty collaborative research projects.

He received his bachelor's degree from Minnesota State University – Mankato in psychology and his master's degree from University of Wisconsin – Eau Claire in communicative disorders. Dr. Hoepner completed his doctorate in communicative sciences and disorders at UW Madison with an emphasis in neurosciences and traumatic brain injury rehabilitation.
PETER R JOHNSON, PHD, CCC-SLP
Peter R. Johnson, PhD, CCC-SLP, earned his MS and PhD in Speech-Language Pathology at the University of Pittsburgh and an Executive Graduate Degree in Healthcare Financial Management from Ohio State University. As a healthcare consultant, Dr. Johnson develops continuing education programs, coaches one-on-one mentoring, and assists in the development of memory units. His previous experience includes working in acute care, home care, outpatient clinics and long-term care.

Dr. Johnson served as a Column Editor for the American Speech-Language Hearing Association (SID 13) Dysphagia Newsletter and the (SID 11) Administration and Supervision Newsletter. He is a four-time recipient of the President's Award and the Outstanding Service Award from the Florida Association of Speech-Language Pathologists and Audiologists. He is the Chair of the Florida Department of Health State Licensing Board for Speech-Language Pathologists and Audiologists.

Dr. Johnson has co-authored several books including Business Matters: A Guide for the Speech-Language Pathologist, Drugs and Dysphagia: How Medications Can Affect Eating and Swallowing and Practical Pharmacology in Rehabilitation: Effect of Medication on Therapy and the newest book, A Clinician's Guide to the Successful Evaluation and Treatment of Dementia, published in 2016.
JENNIFER A. BRUSH, MA, CCC-SLP
Jennifer A. Brush, MA, CCC-SLP, is an award-winning Dementia Educator, author and consultant. Passionate about enriching the lives of people with dementia, Jennifer is on a mission to put the focus of care on the person's preferences, interests and abilities. With her 25 years of industry experience, including leading countless live national and international trainings, facilitating ground-breaking research, and managing innovative person-centered care projects for The Mayer-Rothschild Foundation, Jennifer flawlessly bridges the gap between care communities and the individuals they serve. Jennifer serves on the Association Montessori International Advisory Board for Montessori for Aging and Dementia and is the only person in the US teaching this international program.

Jennifer is the author of 5 nationally recognized books on dementia including the silver-medal winning Creative Connections in Dementia Care and I Care, the gold-medal winning work that also received a 5-star rating as a Reader Favorite. Jennifer is widely known for her revolutionary work in the Spaced Retrieval memory intervention, pioneering this area of study and publishing 2 books on the subject.
MARGARET P. CALKINS, PH.D.
Margaret P. Calkins, Ph.D, is internationally recognized as a leader in the field of environments for elderly, especially those with Alzheimer's and other dementias. After completing an A.B. in psychology at Kenyon College, she received her Masters and Ph.D. of Architecture at the University of Wisconsin-Milwaukee. Dr. Calkins has spent many years exploring the therapeutic potential of the environment—social and organizational as well as physical—particularly as it relates to frail and impaired older adults. A member of several national organizations and panels which focus on issues of care for cognitively impaired older Americans, she speaks frequently at conferences both here in the US and abroad. She has recently served on several design juries, which seek to identify state of the art facilities in both health care and long term care. She has published extensively, and her book Design for Dementia: Planning Environments for the Elderly and the Confused was the first comprehensive design guide for special care units. Most recently she developed a four-volume book set titled Creating Successful Dementia Care Settings (see product page for information). Dr. Calkins has served as Principal Investigator on grants from the National Institutes of Health. She is also Senior Fellow Emeritus of the Institute on Aging and Environment at the University of Wisconsin-Milwaukee.
CAMERON J. CAMP, PH.D.
Cameron J. Camp, Ph.D., is a noted psychologist and international lecturer specializing in applied research in gerontology and applied cognitive aging. Dr. Camp is Director of Research and Product Development for Hearthstone Alzheimer Care in Woburn, MA. He is a Fellow of the Gerontological Society of America, a Fellow of the American Psychological Association, and a Charter Member of the Association for Psychological Science. Dr. Camp has published over 80 articles in journals such as the Journal of Gerontology, The Gerontologist, Experimental Aging Research, Alzheimer Disease and Related Disorders, Clinical Gerontologist, Psychology and Aging, The Journal of Clinical and Experimental Neuropsychology, and the Journal of the International Neuropsychological Society. His research has been funded by the National Institute on Aging, the National Institute of Mental Health, and the Alzheimer's Association.
LYNETTE CARL, PHARMD, BCPS
Lynette Carl, PharmD, BCPS, has practiced as a Consultant and Clinical Pharmacist in pharmacies providing patient care in the settings of hospital, psychiatric, hospice care, home infusion care, and skilled nursing facilities. Her clinical practice experience includes infectious disease, critical care, nutrition support, geriatrics, internal medicine, anti-coagulation, cardiology and pain management. She is co-author of the text Drugs and Dysphagia: How Medications Affect Eating and Swallowing.
NATALIE F. DOUGLAS, PH.D., CCC-SLP
Natalie F. Douglas, PhD, CCC-SLP, is an Assistant Professor in the Department of Communication Disorders at Central Michigan University. She completed her B.S. and M.A. degrees at Ohio University and her Ph.D. at the University of South Florida (USF). At USF she investigated adult neurogenic disorders and the implementation of evidence-based practices in services for individuals with dementia. Her research aims to advance implementation science, communication and quality of life interventions for people with dementia, and life participation approaches to the treatment of aphasia. She is actively involved with the Global Implementation Initiative and serves on an international committee charged with consolidating tools to drive both organizational and individual change as it relates to evidence-based practice implementation.
Continuing Education Credits
CE Credit is not available for this product.
Satisfaction Guarantee
Your satisfaction is our goal and our guarantee. Concerns should be addressed to PESI Rehab, P.O. Box 1000, Eau Claire, WI 54702-1000 or call (800) 844-8260.

ADA Needs
We would be happy to accommodate your ADA needs; please call our Customer Service Department for more information at (800) 844-8260.