FREE Worksheet Download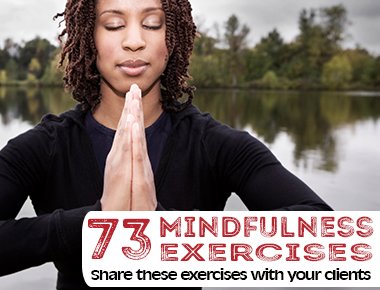 Mindfulness, which is one skill set at the heart of DBT, has become extremely popular among therapists.Yet, many therapists struggle teaching mindfulness to clients.
In this free worksheet, get access to 73 mindfulness exercises that are easy to implement and can help your clients open doors to acceptance, experience, and connection to themselves and the world.
These mindfulness exercises will strengthen your ability to practice mindfulness and are enjoyable too!
Download 73 Mindfulness Exercises to slow down and find peace, contentment, and enjoyment in everyday life.
Use the following 73 mindfulness exercises with your clients.
---
Imagine your toughest clients...the clients that other therapists have given up on...
YOU can be the therapist finally able to help them break through severe and chronic problems including personality disorders, self-destructive behaviors and more!
By completing Dr. Pederson's 8-Week Intensive DBT Certificate Course available in a convenient online format, designed to fit seamlessly into your busy schedule.
When you complete this intensive training, you'll be prepared to effectively apply proven DBT techniques and tools in your practice in a flexible way, specific to your client population, to improve treatment outcomes and your practice.
Lock in your spot and begin transforming the lives of even your most difficult clients.