A Multisensory Enrichment Protocol for Autism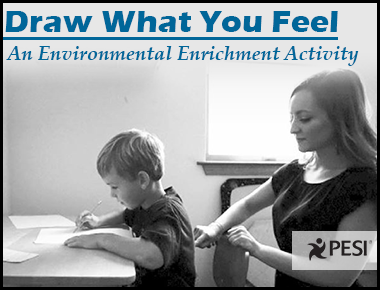 Environmental Enrichment (EE) is an awesome protocol that has been shown to decrease autism symptoms and sensory issues and to increase receptive language and cognitive skills in children with ASD of all ages. It was designed as a low-cost program for parents to do at home, but it can also be done in a school setting, or better yet, shared between home and school.
EE is a 6-month protocol with activities that change every two weeks. Parents/teachers select several multi-sensory activities from a list of 34 activities and do them for the two week period. They work with the child twice a day for about 15-20 minutes each. As the sessions progress, the child gains awareness of sensation and gains multi-sensory integration skills. The activities also build joint-attention skills, which are known to decrease autism severity.
The protocol is simply described in two published papers available for free online (see references below for more information).
In addition, my book, Hands-On Activities for Children with Autism & Sensory Disorders, devotes 80 pages to the protocol, providing approximately 200 activity variations and talking through program implementation details, including the Draw What You Feel activity.
Give it a try and let me know how it goes!
---
Teresa Garland, MOT, OTR/L,
is an occupational therapist and author specializing in sensory and modulation issues. Garland works closely with other health professionals, teachers and doctors to understand and treat underlying sensory, timing, and coordination/motor planning issues as well as overlying socio/emotional behaviors in the symptoms of autism. She is the author of two books: 
Self-Regulation Interventions and Strategies: Keeping the Body, Mind and Emotions on Task in Children with Autism, ADHD or Sensory Disorders
and
Hands-On Activities for Children with Autism & Sensory Disorders.
She writes a blog at
otselfregulation.blogspot.com/
.
---
Woo, C. C., & Leon, M. (2013).
Environmental enrichment as an effective treatment for autism: A randomized controlled trial
.
Behavioral Neuroscience
, 487-97.
Topic: Autism
Tags: Autism | Environmental Enrichment (EE) | Sensory Disorders