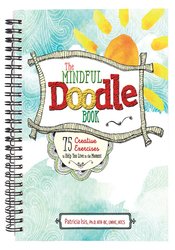 Product Details
Format:

Book - Spiral Bound

Dimensions:

8.5" x 11"

Details:

166 pages

Author:

PATRICIA D ISIS, PH.D., LMHC, ATR-BC, ATCS

Publisher:

PESI Inc.

Copyright:

7/15/2016

CE Available:

No, CE credit is not available

Product Code:

PUB084400

ISBN:

9781683730118
Author
PATRICIA D ISIS, PH.D., LMHC, ATR-BC, ATCS
Patricia Isis holds a Ph.D. in the expressive therapies with an emphasis in art therapy. Dr. Isis is a licensed mental health counselor in Florida and a registered board certified art therapist, credentialed supervisor and a trained Mindful Self-Compassion teacher. Patricia provides art psychotherapy in the public schools, maintains a private practice, and conducts Mindful Self-Compassion and mindfulness trainings. Patricia is a popular presenter locally, nationally and internationally.
Continuing Education Credits
CE Credit is not available for this product.
Reviews
"This book invites readers to a delightful new way to wake up to our lives. No matter what you're doing - digesting, doubting, deep thinking, or divorcing - there's a doodle for it. The author knows how to bring out the artist in each of us as she teaches us to hold our experience and ourselves in loving awareness. So go ahead, doodle it!"
Christopher Germer, PhD, author of The Mindful Path to Self-Compassion, Faculty, Harvard Medical School

"Everyone needs to play -- adults and children alike! Play is a the cutting-edge of growth and creativity. The Mindful Doodle Book is a fun-filled journey towards self-expression and self-discovery. This bottom-up approach frees the hand in order to focus the mind and open the heart."
Terry Marks-Tarlow, PhD, author of Clinical Intuition in Psychotherapy, Awakening Clinical Intuition, and the upcomingColors of Mindfulness

"With The Mindful Doodle Book, Patricia Isis has created a perfect bridge for the ordinary person into the realm of mindfulness. By taking the universal practice of doodling and placing it in a thoughtful context of meaning and kindness, anyone can achieve a level of emotional understanding and relief from the stress and challenge of everyday life. This book can serve as a daily practice for individuals, a useful adjunct to therapy or coaching and an independent means of learning to deal productively with just about anything that comes up. A ten minute Mindful Doodle session before school, a doctor's appointment, a competition or business meeting might be the most cost-effective health intervention anyone could make!"
Pat B. Allen, PhD, ATR, author of Art Is a Way of Knowing and Art Is a Spiritual Path

"Thank-you for The Mindful Doodle Book! Finally, a resource for practitioners in mental health which offers simple drawing prompts to supplement therapeutic communication. The Mindful Doodle Book is an interactive hands-on approach intended for diverse clients of various ages and backgrounds. Author, Patricia Isis, PhD, ATR-BC, is a Board Certified Art Therapist, Licensed Mental Health Counselor and a Trained Instructor in Mindful Self-Compassion. Combining both her practices in Art Therapy and Mindfulness, Dr. Isis' innovative ideas are now collected and elaborated in this unique guide. All the exercises have no right or wrong result, and require minimal equipment and even less artistic know-how. The author makes a distinction between the administration of the drawing exercises by a certified art therapist and by professionals with no art therapy education. Directions for referrals to professional art therapists are included. Professionals of all backgrounds will find this book a valuable addition to their practice."
Janet Bush, EDS, ATR-BC, author of The Handbook of School Art Therapy: Introducing Art Therapy into a Public School System

"The Mindful Doodle Book provides an ingenious and novel way to help you and your clients be still and present in this moment. Using the age-old technique of doodling, Dr. Isis offers an innovative process to mindfully go within and then creatively express what comes up for you. This process will help you and your clients reach deeper inside, bypass the conscious mind that judges and defends, and effortlessly connect and create meaning and healing. Don't be fooled by the simplicity of this method. As you use it with yourself and your clients, you will soon discover that it is a powerful and effective tool for creating understanding, self-acceptance, emotional regulation and contentment. Your clients will be forever grateful that you shared this process with them. I wish I had it years ago both for myself and my clients."
Debra Burdick, LCSW, BCN, bestselling author of Mindfulness Skills Workbook for Clinicians and Clients and Mindfulness Skills for Kids and Teens

"I love this book. Developed from years of practice at the intersection of mindfulness and art-making, The Mindful Doodle Book uses focused prompts to facilitate the creation of open-ended images. Each exercise has a clear, well-written introduction and definitions to help the user compassionately set their intentions. The exercises provide boundaries and safety that allow them to act as catalysts for building self-understanding, creativity, and awareness in the present."
Christianne E. Strang PhD, ATR-BC, President-Elect, American Art Therapy Association

"Over the years, the name Patricia Isis has become synonymous with mindfulness and art therapy. With this wonderful manual, she demonstrates yet again why this is the case. This collection of scholarly yet accessible techniques and creative exercises provides the guidance desired to develop and maintain balance, focus and presence of mind. As a valuable yet fun road map for the art therapist, as well as for the experienced or burgeoning doodler, these deceptively fun exercises simultaneously address universal issues and personal concerns that will no doubt be revisited again and again by the reader."
David Gussak, PhD, ATR-BC, author of Art Therapy in Prisons, Art on Trial: Art Therapy in Capital Murder Cases, & co-editor of The Wiley Handbook of Art Therapy

"All children love to spontaneously draw, but we grow older, we become more self-conscious and judgmental. This delightful book uses artful doodling to help us and our clients rekindle our ability to be mindfully present in the moment, engage our senses, and identify and embrace our emotions more fully."
Richard Sears, PsyD, PhD, ABPP, author of Mindfulness: Living through Challenges and Enriching Your Life in this Moment

"The Mindful Doodle Book is the ideal book for therapists to help clients creatively and emotionally express themselves. With easy to follow instructions, these exercises allow clients to reframe life experiences with full access to sensory modalities. This book provides new ways of experiencing mindfulness."
Rick Miller, LICSW, author of Unwrapped: Integrative Therapy with Gay Men
Satisfaction Guarantee
Your satisfaction is our goal and our guarantee. Concerns should be addressed to PESI Rehab, P.O. Box 1000, Eau Claire, WI 54702-1000 or call (800) 844-8260.

ADA Needs
We would be happy to accommodate your ADA needs; please call our Customer Service Department for more information at (800) 844-8260.