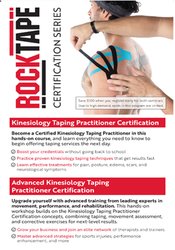 Product Details
Format:

Package - Video

Author:

AARON CROUCH, DPT, CSCS, SFG1

Publisher:

PESI Rehab

Copyright:

11/6/2018

CE Available:

Yes, See CE credit tab for complete continuing education details

Product Code:

RVKIT085251
Objectives
[+]
[-]
020647 - Kinesiology Taping Practitioner Certification
Review the principles of kinesiology taping and supporting evidence
Describe the physiological and neurological effects of kinesiology taping
Demonstrate how to apply tape with appropriate tension for best results
Compare and contrast common taping techniques and review indications/contraindications for each
Demonstrate how taping techniques can be combined with movement to improve patient function, correct postural imbalances, reduce pain, prevent injury, and support recovery with many common conditions
Develop taping applications based on your assessment/treatment approach and the individual needs of your patient
[+]
[-]
020985 - Advanced Kinesiology Taping Practitioner Certification
Review fascial chain anatomy and function
Discuss the kinetic chain approach to kinesiology taping
Apply movement screening techniques for identifying faulty motor patterns
Compare taping techniques for enhancing faulty motor patterns in breathing, squatting, lunging, stepping, pushing, and rolling movements
Demonstrate advanced taping strategies for neuromuscular retraining of performance chains
Combine taping, movement assessment, and corrective exercises to address common sports injuries and enhance athletic performance
Outline
[+]
[-]
020647 - Kinesiology Taping Practitioner Certification
PRINCIPLES OF KINESIOLOGY TAPING
Evolution of kinesiology taping
Old vs. new concepts
Differences between kinesiology tapes
Features and characteristics
Evidence supporting kinesiology taping
THE NEUROSENSORY POWER OF TAPING
Physiological/neurological benefits of taping
Skin-brain connection
Peripheral nerves
Sensory system/receptors
Histology of skin
FUNDAMENTAL TAPING TECHNIQUES AND TREATMENT STRATEGIES
Types of taping
Techniques
Cuts
Tension
Care tips
Indications/contraindications
Combining taping with movement
PAIN TAPING
Methods and application
Effects and benefits
Upper extremity
Trunk/Lower extremity
FLUID DYNAMICS TAPING
Methods and application
Effects and benefits
Decompression strategy vs. compression strategy
POSTURE TAPING
Methods and application
Effects and benefits
Postural taping framework
Posture evaluation from head to toe
Common postural dysfunctions
Exercise interventions
SCAR TAPING
Methods and application
Effects and benefits
Scar tissue assessment
Scar tissue framework
Special populations and conditions
NEURO TAPING
Methods and applications
Effects and benefits
Nerve tract irritation
Upper and lower extremities
CASE STUDIES AND PROBLEM SOLVING
[+]
[-]
020985 - Advanced Kinesiology Taping Practitioner Certification
TAPING ACUTE AND SUBACUTE MUSCULOSKELETAL CONDITIONS
Movement-based taping fundamentals
Kinetic chain approach
Priming the nervous system
Pain gate stimulation
Exoskeleton effect
FASCIAL CHAIN ANATOMY & FUNCTION
Performance back chain
Performance front chain
Performance lateral chain
Performance functional chain
Performance extremity chains
MOVEMENT ASSESSMENT
Breathing pattern
Double leg stance/squat pattern
Staggered leg stance
Single leg stance
Push-up pattern
Scapular screen
Rolling screen
TAPE APPLICATION, THEORY, AND PRACTICE
Tissue preparation, pre-application and application techniques
PERFORMANCE BACK CHAIN TAPING
Function
Pre-application
Application of tape along chain
Motor control exercises
Neuromuscular retraining for the performance back chain
PERFORMANCE FRONT CHAIN TAPING
Function
Pre-application
Application of tape along chain
Motor control exercises
Neuromuscular retraining for the performance front chain
PERFORMANCE LATERAL CHAIN TAPING
Function
Pre-application
Application of tape along chain
Motor control exercises
Neuromuscular retraining for the performance lateral chain
PERFORMANCE SPIRAL LATERAL CHAIN TAPING
Function
Pre-application
Application of tape along chain
Motor control exercises
Neuromuscular retraining for performance spiral lateral chain
PERFORMANCE ARM CHAINS TAPING
Function
Pre-application
Application of tape along chain
Motor control exercises
Neuromuscular retraining for the performance arm chains
SPORT-SPECIFIC TAPING (SWIMMING, CYCLING, RUNNING, THROWING, AND KICKING)
Function
Pre-application
Application of tape along chain
Motor control exercises
Neuromuscular retraining for sport-specific taping
Author
AARON CROUCH, DPT, CSCS, SFG1
Aaron Crouch, DPT, CSCS, SFGI
Aaron is a physical therapist and certified strength and conditioning specialist. As a former NCAA Division I baseball player and high school baseball coach, he understands the value in achieving and maintaining an active lifestyle for his clients. In addition to receiving his Doctor of Physical Therapy degree from Sacramento State, he has expanded experience in Selective Functional Movement Assessment Level 1 course, American Sports Medicine (ASMI) injuries in baseball course, and the 1st Annual SF Giants Sports Medicine Conference. Aaron completed a clinical rotation with the SF Giants baseball minor league complex in Scottsdale, AZ, which influences his treatment approach with athletes.

Speaker Disclosures:

Financial: Aaron Crouch has an employment relationship with Kime Human Performance Institute. He receives a speaking honorarium from PESI, Inc.

Non-financial: Aaron Crouch is a member of the National Strength and Conditioning Association. He is a member and contributor to Strong First Forum.
Continuing Education Credits Awarded for Completion of Entire Package
[+]
[-]
Combined Continuing Education Credit From All Components
Breakdown of Continuing Education Credits by Components
[+]
[-]
020647 - Kinesiology Taping Practitioner Certification
[+]
[-]
020985 - Advanced Kinesiology Taping Practitioner Certification
Audience
Physical Therapists/PTAs
Occupational Therapists/OTAs
Athletic Trainers
Chiropractors
Massage Therapists
Lymphedema Specialists
Personal Trainers
Nurses
Nurse Practitioners
Acupuncturists
Certified Strength and Conditioning Specialists
Exercise Physiologists
Physicians
Physician Assistants
Satisfaction Guarantee
Your satisfaction is our goal and our guarantee. Concerns should be addressed to PESI Rehab, P.O. Box 1000, Eau Claire, WI 54702-1000 or call (800) 844-8260.

ADA Needs
We would be happy to accommodate your ADA needs; please call our Customer Service Department for more information at (800) 844-8260.